Lithium is now widely accepted as a key metal in the transition to electric vehicles (EVs) on our way to a net-zero economy, as exemplified by US Geological Survey's (USGS) classification of lithium as a 'critical mineral resource'. In this article, we discuss why it is so important to the EV story, and explain why not all lithium is created equally from an environmental perspective.
Why lithium?
Lithium-ion batteries are the dominant battery technology for EVs and today we expect it to remain at the heart of future EV battery technologies. This is no coincidence: lithium is the least dense element that is a solid at room temperature, making it best suited for use as the active material in batteries.
As such, demand for lithium is expected to grow by 130% by 2025 from 2020. It should be noted that EVs are not the sole driver of demand. In 2020, they made up 39% of demand, but that is expected to rise to comfortably more than 60% by 2025. The remaining 42% comes from consumer electronics batteries, energy storage batteries and a variety of industrial processes. [1]
Exhibit 1: Lithium demand is expected to grow steadily
Source: BNEF, March 2021
Demand for EVs, and hence lithium, will be driven by continued reductions in the cost of lithium ion batteries per kilowatt-hour (USD/kWh). This can be achieved by
Improving energy density
Reducing cost through scale effects.
USD/kWh is the most important metric to measure the improvement in the cost of EV batteries because it represents the price for a given amount of energy storage, and hence a unit of range for an EV. Reducing the cost of the battery pack is key to ensuring that EVs reach and exceed cost parity with traditional internal combustion engines.
Where is lithium in a battery?
A battery, simplistically, is made up of cathode, anode, separator and electrolyte. Electrons flow between the cathode and anode through the electrolyte. The separator keeps the electrodes apart while allowing the transport of lithium ions that create the passage of current in the cell. In today's batteries, lithium is present in the cathode and the electrolyte. [2]
Exhibit 2: How a battery works
Source: BNP Paribas Asset Management, June 2021
Today, three main lithium-ion battery chemistries compete for use in EVs:
NCM: Lithium Nickel Cobalt Manganese Oxide
LFP: Lithium Iron Phosphate
NCA: Lithium Nickel Cobalt Aluminium Oxide
Technology roadmaps by battery manufacturers and investments by carmakers all suggest that the next EV battery technology will be a solid-state lithium-ion battery.
The key here is that the key material, the conductive element, remains lithium.
How is lithium produced?
Today, there are two main production routes:
Brines: making up 59% of economic lithium resources today, the largest brines are located in Bolivia and Chile, but brines also exist in Argentina and China. Brines are evaporated salt lakes where naturally occurring traces of lithium have been concentrated down through evaporation into a more economically extractable resource. Extracting lithium from brines involves solar evaporation in large tanks before impurities such as boron, calcium and magnesium are extracted. A lithium carbonate is precipitated and filtered, leaving potassium and sodium as by-products. Due to its lower energy and chemical input requirements, brine is generally viewed as comfortably the lowest cost production.
Spodumene: hard rock minerals, in particular spodumene (lithium aluminium inosilicate), account for 25% of lithium resources. Having been mined, spodumene needs to be heated and then cooled before being crushed and roasted again with concentrated sulphuric acid before sodium carbonate (soda ash) is added and the resulting lithium carbonate can be crystallised, heated, filtered and dried. [3]
Lithium mining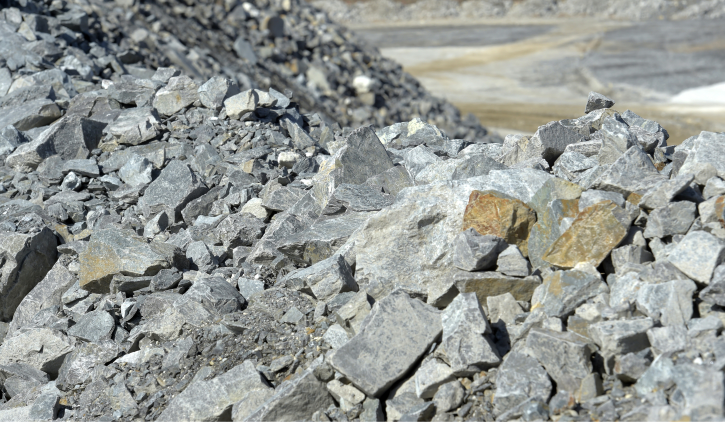 Source: Shutterstock
The purity requirements for battery-grade lithium carbonate mean that, in many respects, lithium production for use in cathode materials is more akin to a chemical process than pure mining. The requirements and the complexity of the process have been responsible for many of the delays junior miners have faced in bringing new production to market.
Lithium carbonate can be converted into lithium hydroxide. Some producers favour this precursor for cathode materials because it decomposes at a lower temperature.
For NCM cathodes with nickel content in excess of 60%, lithium hydroxide is preferred. As a result, the increased prevalence of NCM batteries, as well as the increasing tendency to increase the nickel content to improve energy density, has led to increasing demand for lithium hydroxide.
Production from brines will likely continue to be a two-step process for lithium hydroxide, but spodumene production converted directly into hydroxide is lowering the cost of production [4]
Lithium industry – Dominated by five companies
Today, the global lithium industry is an oligopoly: the top five companies account for more than 80% of global supply. [5]
Exhibit 3: Lithium production and reserves
Source: US Geological Society, January 2021
Environmental considerations around lithium production
The production of lithium from mineral resources such as spodumene is energy and chemical intensive. In China, each ton of hard rock lithium refined produces 15 tonnes of CO2.
While brines are more energy efficient, using the solar energy for evaporation and concentration, and hence emitting only 5 tonnes of CO2, there are other issues: some estimates suggest that 470 cubic metres of water are lost for each ton of lithium hydroxide produced from South American brines. [7]
We believe lithium is the solution to decarbonising passenger transportation, but a lot can be done to make the supply chain more sustainable.
Indeed, solutions are emerging. One company is building a zero-carbon lithium project in Germany based on a differentiated extraction process combining mature technologies and deep underground geothermal brine reservoirs. Another low-carbon production process aims to commercialise the production of lithium from the tail-brine of existing bromine production facilities.
[1] US Geological Survey
[2] https://aip.scitation.org/doi/pdf/10.1063/1.4878480#:~:text=Separators%20are%20an%20important%20component,the%20Li%20ion%20containing%20electrolyte
[3] https://www.intechopen.com/books/thermodynamics-and-energy-engineering/lithium-recovery-from-brines-including-seawater-salt-lake-brine-underground-water-and-geothermal-wat, https://www.thoughtco.com/lithium-production-2340123
[4] https://www.argusmedia.com/en/news/1836977-lithium-hydroxide-demand-to-overtake-carbonate-aabc
[5] BNPP AM, GS March 2021, and company reports
[6] BNP PAM, GS March 2021, BNEF and company reports
[7] Vulcan Energy, citing Benchmark Materials, investor presentation May 2021
---
Please note that articles may contain technical language. For this reason, they may not be suitable for readers without professional investment experience. Any views expressed here are those of the author as of the date of publication, are based on available information, and are subject to change without notice. Individual portfolio management teams may hold different views and may take different investment decisions for different clients. This document does not constitute investment advice. The value of investments and the income they generate may go down as well as up and it is possible that investors will not recover their initial outlay. Past performance is no guarantee for future returns. Investing in emerging markets, or specialised or restricted sectors is likely to be subject to a higher-than-average volatility due to a high degree of concentration, greater uncertainty because less information is available, there is less liquidity or due to greater sensitivity to changes in market conditions (social, political and economic conditions). Some emerging markets offer less security than the majority of international developed markets. For this reason, services for portfolio transactions, liquidation and conservation on behalf of funds invested in emerging markets may carry greater risk.